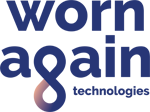 Die Kreislaufwirtschaft für Textilien macht Fortschritte
31st May 2022
Updated 16th November 2022
Worn Again Technologies kündigt Pläne für den Bau einer neuen Demonstrationsanlage für
Textilrecycling in Winterthur in der Schweiz an.
Worn Again Technologies befindet sich in der Endphase der Planung einer innovativen
Demonstrationsanlage, in der die bahnbrechende Recyclingtechnologie des Unternehmens für Textilen
vorgestellt werden soll. Die Anlage, die von dem britischen Unternehmen gebaut und betrieben wird,
soll im schweizerischen Winterthur errichtet werden. Mit einer Kapazität von 1'000 Tonnen Textilien
pro Jahr ist die Anlage ein wichtiger Meilenstein um den Weg für einen industriellen Betrieb zu ebnen.
Die Demonstrationsanlage von Worn Again Technologies wird in der Nähe eines der Technologiepartner des
Start-ups, Sulzer Chemtech, im schweizerischen Winterthur gebaut. Dies ist ein entscheidender Schritt auf dem
Weg zur Skalierung und Kommerzialisierung der Recyclingtechnologie des Unternehmens.
Insbesondere wird die neue Infrastruktur im industriellen Maßstab dazu beitragen, die von Worn Again
Technologies und seinen strategischen Partnern entwickelte Lösung für das Recycling von Textilien in einem
geschlossenen Kreislauf zu validieren. Im Verfahren werden Polyethylenterephthalat (PET) und Zellulose aus
nicht wiederverwendbaren, schwer zu recycelnden Textilien von Endverbrauchern und aus industriellen
Quellen rückgewonnen. Darüber hinaus reinigt das Verfahren die gewonnenen Produkte indem Farbstoffe,
Fremdstoffe und Unreinheiten entfernt werden – ein entscheidender Vorteil gegenüber herkömmlichen
mechanischen Recyclingverfahren. So entstehen hochwertige, reine Materialien, die in der bestehenden
Anlagen zu neuen Fasern, Textilien und anderen Produkten verarbeitet werden können.
Hierzu Erik Koep, CEO von Worn Again Technologies: "Mit Spannung haben wir diesem nächsten Schritt auf
dem Weg zum Aufbau eines zuverlässigen, leistungsstarken Textilrecyclings entgegengesehen. Der Bau und
der Betrieb dieser Demonstrationsanlage ist der nächste wichtige Meilenstein auf dem Weg zur
Verwirklichung unserer Vision der Kreislaufwirtschaft von Textilien. Wir freuen uns darauf, den Betrieb bald
aufnehmen zu können und sehen dies als erste Anlage in einem weltumspannenden Netz von
Verarbeitungsbetrieben."
Torsten Wintergerste, Chairman von Worn Again Technologies, fügt hinzu: "Wir freuen uns, dass unsere
Technologien für die Errichtung einer hochmodernen Textilrecyclinganlage zum Einsatz kommen. Durch den
Bau in der Schweiz erhält Worn Again Technologies direkten Zugang zu den globalen F&E-Einrichtungen von
Sulzer Chemtech und der Schweizer Textilindustrie. So werden wir ein Ökosystem von Partnern rund um diese
Demoanlage aufbauen und die Schaffung einer Kreislaufwirtschaft für Textilien vorantreiben. Die Schweiz ist
für Worn Again der ideale Standort, um die Demonstrationsanlage mit allen Beteiligten in kürzester Zeit zu
verwirklichen."
Image 1: Worn Again Technologies hat Pläne für den Bau einer neuen Demoanlage für Textilrecycling in Winterthur angekündigt. (Bildquelle: shutterstock_1359612518 / shutterstock_1190731291)
Image 2: Die Pilotanlage wird die bahnbrechenden Polymerverarbeitungstechnologien von Worn Again für das Textilrecycling demonstrieren. (Bildquelle: shutterstock_1721982319)
Image 3: Die Anlage mit einer Kapazität von 1'000 t Textilien pro Jahr ebnet den Weg für den industriellen Betrieb. (Bildquelle: shutterstock_743587066)
---
About Worn Again Technologies
Worn Again Technologies was founded in East London in 2005, with a vision to eradicate textile waste. Since 2012, the company has been in development of a unique polymer recycling technology which separates, decontaminates and extracts polyester and cellulose (from cotton) from non-reusable textiles. The dual PET and cellulose outputs can be reintroduced into supply chains to become new fibre, textiles and products as part of a continual cycle.
The regenerative recycling technology is being brought to life by an expert team and strategic partners who have a shared ambition of creating a circular textiles industry. The company has valued strategic investors including H&M Group, Sulzer Chemtech (global market leader in innovative mass transfer, static mixing and polymer solutions for petrochemicals, refining and LNG), Oerlikon (leading materials and surface solutions provider), Mexico-based Himes Corporation (a garment manufacturer) and Directex (a textiles producer), as well as the support of influential brands and partners, such as Kering, ASICS Europe, Sympatex, Dibella and Dhana.
In November 2017, Worn Again Technologies was invited to become part of the Fashion for Good scaling programme. In 2019, Worn Again Technologies received the ANDAM Innovation Prize, the PCIAW Outstanding Contribution to the Textile Industry and the 'One to Watch' at the Global Good Awards. In 2019, the company's Founder, Cyndi Rhoades, was also a finalist for The Circular Economy Awards Leadership award.
Worn Again Technologies is also a signatory and key contributor to the UNFCCC Fashion Industry Charter for Climate Action.
---