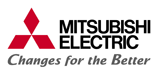 Mitsubishi Electric offers new iQ-F extension modules for integrated safety
As automated systems are becoming more extensive, they require corresponding safety controllers to maintain operations. Mitsubishi Electric's latest iQ-F safety extension modules bring reliability to the next level. These compact, fully integrated units streamline installation and configuration while improving data visualisation and integrity.
At the heart of Smart Manufacturing are data-driven operations, where machines produce key information that is shared across the enterprise to maximise efficiency and productivity. This also applies to safety applications, where users can leverage unique actionable insight into diagnostics, machine condition monitoring and troubleshooting.
The newly launched FX5-SF-MU4T5 main module and FX5-SF-8DIA input expansion module facilitate the introduction of smart safety operations on the factory floor. When implementing these innovative products, businesses can increase safety system performance, drive control and user-centric support by simplifying configuration and set up while optimising connectivity and data transfer. These solutions enhance the capabilities of MELSEC iQ-F FX5U and FX5UC PLC CPUs for applications that require compliance with Category 4, PLe or SIL3 international safety standards.
Easy connection
Mitsubishi Electric's FX5 safety extension modules are easy to set up as they do not require any programming. More precisely, they feature a rotary switch that allows users to select from nine types of built-in safety logic, removing the need to load or develop any sequence resulting in shortened commissioning times.
In addition, the safety modules are quickly connected to the PLC via a bus cable, without the need for specific communications modules. This means that businesses can reduce their wiring and equipment footprint. The direct transfer of safety information to the main CPU is also enabled by the connection, which can then conduct advanced diagnostics.
Thanks to built-in web server functions, the system data can be displayed on any device via a web browser. Enhanced visualisation can be readily achieved with an HMI. Where possible, the solution can help businesses achieve system validation for cGMP compliance. Users can take advantage of these options to monitor the status of both standard and safety control systems simultaneously. Ultimately, businesses can benefit from greater visibility over their processes and safety control.
Quick installation
A web browser based configuration guidance app helps to confirm the resulting configuration and wiring. In addition, the tool produces an impression of the safety standards that the set-up meets, assisting businesses in reaching the configuration that is required for their application. Once the set-up is complete, it is also possible to print the documentation generated and use it for library functions.
Finally, the FX5-SF-MU4T5 and FX5-SF-8DIA modules, coupled with the web server functions, support operational integrity. During runtime users are instantly notified of any tampering of the logic set on the rotary switches. Furthermore, these activities do not affect the integrity of the safety system. This information can be easily visualised and any appropriate action taken.
Paul Judge, Compact PLC & Visualisation Product Manager at Mitsubishi Electric, comments: "Mitsubishi Electric's iQ-F safety extension modules offer a unique solution for businesses at the beginning of their digital transformation journeys. By utilising these new plug-in modules, users can benefit from greater control and visibility of their safety processes as well as maximised connectivity. Even more, they can achieve this while simplifying installation and commissioning, as they require no additional programming, benefitting from lower costs and shorter implementation timeframes. Businesses can also easily select from pre-defined safety functions, reducing configuration time."
Image 1: The newly launched FX5-SF-MU4T5 main module and FX5-SF-8DIA input expansion module facilitate the introduction of smart safety operations on the factory floor. [Source: Mitsubishi Electric Europe B.V.]
---
About Mitsubishi Electric

With more than 100 years of experience in providing reliable, high-quality products, Mitsubishi Electric Corporation (TOKYO: 6503) is a recognized world leader in the manufacture, marketing and sales of electrical and electronic equipment used in information processing and communications, space development and satellite communications, consumer electronics, industrial technology, energy, transportation and building equipment. Mitsubishi Electric enriches society with technology in the spirit of its "Changes for the Better." The company recorded a revenue of 4,476.7 billion yen (U.S.$ 36.7 billion*) in the fiscal year ended March 31, 2022.Mitsubishi Electric Europe, Industrial Automation – UK Branch is located in Hatfield, United Kingdom. It is a part of the European Factory Automation Business Group based in Ratingen, Germany which in turn is part of Mitsubishi Electric Europe B.V., a wholly owned subsidiary of Mitsubishi Electric Corporation, Japan.
The role of Industrial Automation – UK Branch is to manage sales, service and support across its network of local branches and distributors throughout the United Kingdom.
*U.S. dollar amounts are translated from yen at the rate of ¥221=U.S.$1, the approximate rate on the Tokyo Foreign Exchange Market on March 31, 2022.
---