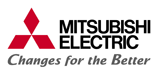 The futureproof PLC
Mitsubishi Electric's FX5UC Premium Micro PLC fits highly sophisticated data processing and communication capabilities into an exceptionally small footprint. This diminutive powerhouse of a machine controller is therefore ideal for cutting-edge Smart Factory applications and conforms to the drive for lighter-weight, more space-efficient equipment.
The interconnected factory of the future requires automation products that can perform increasingly advanced functions while fitting into smaller spaces. The design of the latest MELSEC iQ-F series FX5UC PLC helps machine builders and manufacturers by addressing precisely these needs.
The solution offers one of the most powerful CPUs currently available in an enclosure volume that is a quarter the size of a conventional unit – the smallest model in the range measures just 42.1mm W x 90mm H x 89.1mm D. This combination allows businesses to benefit from extremely fast machine responses, even for demanding positioning and advanced motion control applications which increases productivity – whilst also minimising equipment footprint.
Other design elements contributing to the space saving rationale include incorporating secure push-fit terminals with built-in relay and transistor outputs, which eliminate the need to install additional space-consuming terminal blocks. The FX5UC's comprehensive range of integrated functions minimises other external hardware and equipment required, reducing capital expenditure and operating expenses.
Built-in tools to prevent data theft or tampering, such as security key authentication are another example. Features such as multi-vendor networking capabilities also add to its flexibility, allowing users to develop the cutting-edge, integrated automated systems that characterise Industry 4.0 applications.
All the features of FX5UC contribute to the creation of an ideal solution for a broad range of applications, from cost sensitive small machines to larger, networked multi-PLC systems. Ultimately, the latest FX5UC acts as a key enabler for the interconnected, smart factory of the future.
Image 1: Mitsubishi Electric's FX5UC Premium Micro PLC fits highly sophisticated data processing and communication capabilities into an exceptionally small footprint. [Source: Mitsubishi Electric Europe B.V.]
---
About Mitsubishi Electric

With more than 100 years of experience in providing reliable, high-quality products, Mitsubishi Electric Corporation (TOKYO: 6503) is a recognized world leader in the manufacture, marketing and sales of electrical and electronic equipment used in information processing and communications, space development and satellite communications, consumer electronics, industrial technology, energy, transportation and building equipment. Mitsubishi Electric enriches society with technology in the spirit of its "Changes for the Better." The company recorded a revenue of 4,476.7 billion yen (U.S.$ 36.7 billion*) in the fiscal year ended March 31, 2022.Mitsubishi Electric Europe, Industrial Automation – UK Branch is located in Hatfield, United Kingdom. It is a part of the European Factory Automation Business Group based in Ratingen, Germany which in turn is part of Mitsubishi Electric Europe B.V., a wholly owned subsidiary of Mitsubishi Electric Corporation, Japan.The role of Industrial Automation – UK Branch is to manage sales, service and support across its network of local branches and distributors throughout the United Kingdom.
*U.S. dollar amounts are translated from yen at the rate of ¥221=U.S.$1, the approximate rate on the Tokyo Foreign Exchange Market on March 31, 2022.
---